The D.H. Lawrence Children's Prize: Writing Competition 2023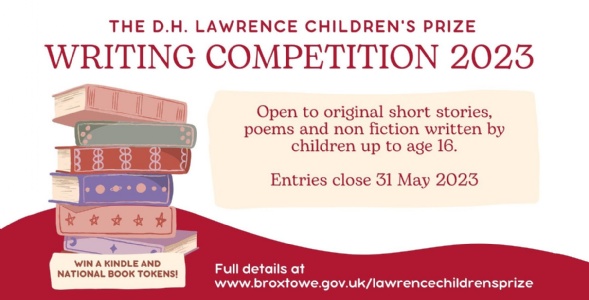 Please enter an introduction for your news story here.
The D.H. Lawrence Children's Prize: Writing Competition 2023 has now been launched.
There are two categories – under 11s and 12-16 with first place in both categories winning a Kindle Paperwhite Signature Edition. Second place in each category will receive £50 in National Book Tokens and third place will receive £30 in National Book Tokens.
The theme for the competition is 'My neighbourhood' and the judges will be looking for short stories, poems or non-fiction pieces of no more than 500 words, which are inspired by the local area and what makes it special.
The competition is free to enter, offers winners and runners up an awards certificate and a chance to take part in an awards ceremony at the D.H. Lawrence Birthplace Museum in Eastwood.
Plus, there will be an exhibition at the museum this winter, displaying the pieces that won, the runners up and other notable entries.
Participating in this competition will not only be a fun and rewarding experience for your students, but it will also help them to develop their writing skills and boost their confidence.
To participate, all students need to do is submit their entries, including name, age and contact details to culture@broxtowe.gov.uk or by post to The D.H. Lawrence Birthplace Museum, 8a Victoria Street, Eastwood, Nottinghamshire, NG16 3AW, by the 31st May 2023.
Full details at www.broxtowe.gov.uk/lawrencechildrensprize